Plate machining
Advances production facilities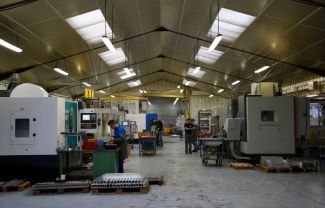 Bulk Machining Workshop
Workshop specialized in machining material blocks and with digitally-controlled 3 and 5-axis adjustment.

The pool of block machining machines is capable of producing highly complex aluminium parts. RABAS continues to invest in this type of machine with the acquisition of a new Hermlé machining centre.


OUR FACILITIES

Milling
• Conventional digitally-controlled milling machines
- 3-axis machining centres: QUASER AND HURON "10 units in 2014 / 15 in 2016"
- 5-axis machining centres: HERMLE "4 units in 2014 / 6 in 2015"

• Conventional digitally-controlled lathes

Storage

Management of the thick plate handling centre covering over 300 m², Rabas has independent facilities for preparing plates prior to machining (e.g. plate cutting).